Services
Recordings are possible in all variations: from "full house" recordings with use of all studio rooms to simple vocal overdub sessions in control room B. All areas are interconnected and can be joined flexibly. A fully analog 16-bus personal monitoring system makes it easy for musicians to achieve the best possible performance. We offer a collection of classic and legendary microphones, preamps and effects. If desired, we can record entirely to tape (8 track/Tascam, 24 track/Telefunken, 2 track/Studer). You are guaranteed professional workflow, personal attention and an inspired recording atmosphere.
Analog mixes still differ from digital mixing in the computer, in terms of both sound aesthetic and workflow. Apart from the unrivaled organic and spatial sound of its effects, analog mixing also adds a haptic component to the process, as opposed to the digital process, which only takes place virtually on the screen. Fader riding and adjustments happen during mixing and 'live'. No two analog mixes are completely identical: the process ideally takes on the magic of a live performance. Anyone who appreciates this difference will have a blast in our Control Room A. As with recordings, we also like to work "hybridly" and combine the best of both worlds ;).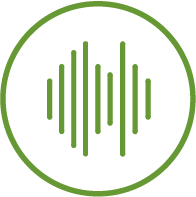 We put the finishing touches on your mix. High-end converters, first-class monitoring and acoustics, as well as the selection of equipment ensure an optimization of the effect and emotional appeal of your production. Naturally, we take all technical aspects such as dynamics, frequency response, loudness and translation to the appropriate media and end devices into account. Professional mastering makes all the difference to the success of a recording. Curious? We can produce a test master for you on request. In fact, we offer mastering, as well as recording and mixing, from/to tape (1/4 inch Studer A810).
Make music for welove.audio
welove.audio
ADAPTIVE MUSIC EXPERIENCES
With our innovative open source welove.audio engine we make adaptive audio technology available for everyone - a system for production, integration and control of adaptive music in applications and games. We offer you the direct digitization of your music for welove.audio and, with it, a big plus for the marketing of your work.